CIRI researchers develop CyberTalent Bridge to aid businesses' cybersecurity workforce
A majority of modern business takes place, at least partially, online. Whether it's via email, websites, or other computer-based resources, businesses have to be knowledgeable about their own cybersecurity and create a workforce that can address their cybersecurity needs. CIRI researchers are working with a public/private stakeholder group to develop a software tool, called the CyberTalent Bridge, which helps businesses identify cybersecurity skill sets within their existing workforce.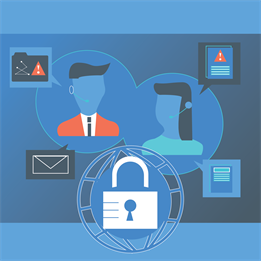 For smaller businesses, hiring cybersecurity professionals can be difficult due to budget constraints and the difficulty of clearly identifying the skills needed for the specific position being filled. The CyberTalent Bridge empowers businesses to map the knowledge, skills, and abilities (KSAs) required to perform cybersecurity tasks with the cybersecurity KSAs of the personnel within their own workforce as well as candidates for new-hire positions. Not only can businesses make use of already available resources, this tool will also help them choose appropriate training to build on existing knowledge.
"As a nation, we continue to increase our reliance on information technology and operational technology systems," says Jose Alejandro Medina Cruz, the Co-PI on this project. "All of the critical infrastructure sectors in the nation rely on computer networks. It's natural that cybersecurity has also become a more serious issue affecting individuals and organizations alike."
The responsibility of cybersecurity falls on the entirety of a company. Whether an employee is in charge of simply selecting their own password for an email account or they're acting as a cybersecurity professional, computer safety in the workplace is integral to overall security. Using ontology-based reasoning, the CyberTalent Bridge will allow businesses to manage their cybersecurity risk while also providing an efficient platform for workforce planning, task assignment, and professional development.
"Any losses that we prevent will reflect an improvement over the huge blows that are being dealt to companies daily. Ransomware attacks, for instance, just one attack can send a company in a downward spiral," says Medina Cruz. "It's the difference between being financially healthy and not being able to pay the rent."
This project also fits well with CIRI's mission and research portfolio. CIRI's three main areas of focus are research, technology transition, and workforce development. Work in this research topic advances all of those areas.
"CIRI is focusing on solving problems in higher learning and professional development aspects," says Medina Cruz. "The truth is that we should be training every single student in cybersecurity because, let's face it, in this age every single trade and profession depends on computer networks. That trend is not stopping anytime soon."
The main goals for this project are to research, develop, and deliver tools and technologies that enable cyber workforce transformation. The CyberTalent Bridge will find the most suited available talent using technologies from an emerging generation of interoperable qualification and learning management systems.
"We all benefit if companies can adopt tools and technologies that help them implement cybersecurity processes in their companies," says Medina Cruz.